Little Black Hills Battles
Little Black Hills Battles is a recognition of Monument Health's Pediatric patients who bravely fight childhood illness and disease every day right here in our community. Donations through Monument Health's Children's Miracle Network (CMN) program are devoted to helping these children. All funds stay local.
WILDER
Wilder was born three months early on January 19, 2021, via emergency c-section after his mom, Samaya, had a gut-feeling she should go get him checked at the local hospital. Wilder was immediately delivered and flown to Monument Health where he was diagnosed with a rare chromosomal disorder, 3P Deletion syndrome. By the time he was one month old, he was also diagnosed with hydrocephalus (an abnormal fluid buildup within the brain). He was later also diagnosed with three heart defects – atrial septal defect (ASD), patent ductus arteriosus (PDA) and mild pulmonary valve stenosis (PS). He underwent two major surgeries; one to place a shunt for his hydrocephalus and the other for a feeding tube. Following Wilder's release from the NICU in April, he had numerous hospital stays at Monument Health. Due to his existing diagnoses, he was susceptible to rhinovirus, which landed him back in the hospital almost monthly as his little body had trouble fighting it. When Wilder was 11 months old, he caught a cold and had concerningly low oxygen levels. He passed away on December 1. Wilder's parents, Samaya and Tanner are very grateful to the numerous caregivers who helped their son and the compassion they showed him. Wilder loved cuddles, holding somebody's finger, car rides and Christmas lights. Although Wilder's time on earth was short, he had an immeasurable impact on those who loved him.
DARREN
Shortly after Darren's ninth birthday and Thanksgiving in 2017, he fell ill with what his parents thought was a case of too much holiday. Throughout the week, Darren grew nauseous and lethargic and his breathing became labored, so his mom, Shanna, took him to the emergency department at Monument Health. His labored breathing was called Kussmaul breathing, which is very indicative of diabetic ketoacidosis (DKA), a serious and potentially life-threatening complication of diabetes in which the body produces high levels of blood acids called ketones. Darren was admitted to the ICU for a few days to monitor for brain swelling and to slowly administer insulin for his newly diagnosed Type 1 Diabetes. In October 2021, Darren was found to have issues with his gastrointestinal system, leading to a 12-week stint of frequent hospital stays. His medical team is still working to determine a cause for the GI issues. Darren is now 13 and leads as normal of a life as possible. He enjoys playing baseball and soccer.
CURTIS
Curtis was born at 28 weeks gestation, weighing in just one pound six ounces. His parents, Chuck and Angela, were expecting an early delivery, but not that early. Angela had a complicated pregnancy, and after one particularly rough day, she went to the hospital as a precaution. Curtis arrived shortly after via emergency c-section. His outlook wasn't promising, and he ended up dropping to one pound one ounce before he started gaining weight. Curtis spent his first 77 days in the Monument Health NICU. After being released, he continued to have health issues, including respiratory illness and epileptic seizures. He gets rhinovirus frequently due to underdeveloped lungs, leading to fluid in his lungs requiring hospital stays on the pediatric floor to get him back on track. Despite a rough start, Curtis is now healthy and thriving! He loves all kinds of trucks and playing with his brother Wyatt.
SAYLER
During Sayler's mom, Kami's 20-week ultrasound, genetic markers indicated a potential Down syndrome diagnosis were present. Although her pregnancy was deemed high-risk, Kami and her husband were reassured they would have a healthy baby girl despite her Down syndrome diagnosis. Due to holes present in Sayler's heart, Kami was induced early. Sayler was born without incident and went home after three months. A short time later, she was admitted to the hospital for breathing difficulties. She was diagnosed with RSV and spent a few weeks in the hospital. After that visit, Sayler continued to battle respiratory viruses which led to 12 more hospital stays, and later was diagnosed with aspiration pneumonia. After treatment, her health turned around! She is now a healthy, happy girl who loves new outfits and gymnastics. If Sayler plans the to-do list for the day, you can bet it will include shopping and a stop at her favorite coffee shop!
LOLITA
Lolita was diagnosed with hydrocephalus, an excess amount of fluid around her brain, when her mom Kimberly was 20 weeks pregnant. She was born deaf at 37 weeks and was diagnosed with cytomegalovirus (CMV), a common virus with effects that range from asymptomatic to severe end organ dysfunction. In Lolita's case, it caused brain damage. Calcification formed in her brain that is fatal to remove and it led to a cerebral palsy diagnosis at 3 months old. At 15 months, she was diagnosed with epilepsy after she started having petit mal seizures. Lolita also has scoliosis and is hypertonic, which means that her body is very tight. Every three months she receives Botox treatments, helping to improve movement. At 2 and one-half years old, Lolita emergently had a GJ tube placed for feeding, as she was only 17 pounds and losing weight. To top it off, she had chronic pneumonia. In January, right before Monument Health's new PICU opened, Lolita was flown to Denver to treat the pneumonia. While there, she received a biPap machine and a chest percussion vest to help loosen infection in her lungs. Lolita has spent much of her life in and out of the advanced pediatrics department at Monument Health, in addition to traveling for specialized treatment. Since her trip to Denver, Lolita's illnesses have been able to be managed at home. She is currently in physical, occupational and speech therapy. Although Lolita's mobility is limited, she is a spirited girl who loves to listen to music.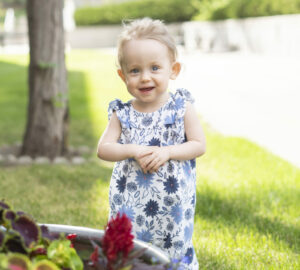 LENNON
Lennon's parents were overjoyed at the news of a baby girl and were in the process of moving to a bigger house when her mom, Kristi's, water broke at 28 weeks. Her maternal fetal medicine doctor advised her to immediately get in the car and drive to Sioux Falls to deliver. They got to New Underwood and turned around because Lennon was coming quickly. Lennon arrived via emergency c-section as soon as they got to Monument Health. She was quickly diagnosed with hydrops fetalis, a condition in which an abnormal amount of fluid accumulates in a baby's body. Lennon's particular diagnosis meant that Kristi's immune system attacked Lennon's red blood cells in utero. Lennon was also diagnosed with urogenital sinus, a rare birth defect in which the urinary and reproductive tracts do not separate. The urogenital sinus has caused UTIs which have led to surgeries and what doctors thought was kidney failure. Lennon recently had a procedure called a vesicostomy which helps urine drain and protects her kidneys. She has since been healthy and free of UTIs. Lennon's favorite things to do are to play with her puppy Atlas, who is her German Shepherd protector, and to play with her cousins.
CARTER
Carter was just 4 years old when he was diagnosed with a disease that is especially rare in children. Chronic Inflammatory Demyelinating Polyneuropathy (CIDP) is a chronic autoimmune disorder that causes Carter's body to attack the myelin sheaths, or fatty coverings that protect his nerves. Since then Carter, now 10, has been receiving his regular infusions at Monument Health. Carter's journey has been a long one, and he has overcome more than most adults could only imagine; yet you'd never know it if you saw him. Carter enjoys spending time outdoors, camping, playing sports and spending time with his brother, Mason, and rabbit, Onyx.
BROX
Brox was diagnosed with Down Syndrome and Complete Antrioventricular (AV) Canal defect at birth. Complete AV Canal defect is a severe congenital heart disease in which there is a large hole in the tissue that separates the left and right sides of the heart. The condition is often associated with Down Syndrome. Brox's care team in Monument Health's NICU and Pediatric Unit worked closely with a pediatric cardiologist from Omaha, Neb., ensuring that Brox was healthy enough to travel to Omaha at 2.5 months for open heart surgery and was instrumental in providing support before he was transferred. Brox is now a strong, healthy kid who loves people and anything related to baseball — especially Post 22 Baseball!
BARRETT & JACK
Barrett and Jack, born at 24 weeks gestation, along with triplet Leighton, came into the world in a fury. All three boys were under two pounds at birth and as planned, were immediately taken to the NICU at Monument Health. Leighton fought hard, but unfortunately passed away peacefully at 3 days old. After many trials and tribulations, including intestinal surgery for Jack and heart surgery for both boys, Jack and Barrett were discharged home with their moms after spending 3 long months in NICU. Throughout the following cold and flu season, both boys required admission to the Pediatric Unit at Monument Health for support with oxygen. Against all odds these two tiny preemies have grown to be healthy, thriving, superhero-loving kids!
Read Barrett and Jack's Full Story
LYLA
Lyla has spent a good portion of her life fighting a battle that no kid should have to fight. She was diagnosed with bilateral kidney cancer at 14 months, after tumors were found on both of her kidneys during an emergency department visit following an appointment in urgent care. Lyla spent the next six months receiving aggressive chemotherapy treatments out of town. Following her initial treatments she was able to continue her chemotherapy as an outpatient on the Monument Health Pediatrics Unit, working closely with her Oncology team. Receiving her care close to home allowed her to continue spending time with her grandparents, and gave her family the freedom to live life as normally as possible. Lyla is currently in remission, only visiting the hospital for routine imaging scans or for a short stay due to her compromised immune system. Lyla is thriving and loves trips to Canyon Lake Park to play and look at the ducks!
Read Lyla's Full Story
REMI
Remi was four months old when she was first admitted to the Monument Health Pediatrics Unit for rhinovirus. Her parents suspected that she had something more severe, and after two and a half weeks she was diagnosed with LAMA2 Muscular Dystrophy, a rare congenital early onset form of muscular dystrophy. Symptoms of LAMA2 are apparent at birth or within the first few months of age, and present as severe muscle weakness and lack of muscle tone. Due to her muscular dystrophy Remi has been admitted to the Monument Health Pediatrics Unit numerous times for different respiratory illnesses. She works hard at regular occupational and physical therapy appointments, helping her grow stronger. She is now two-years-old and loves to play with her sister, spend time with her horses and go swimming.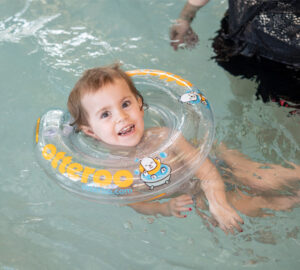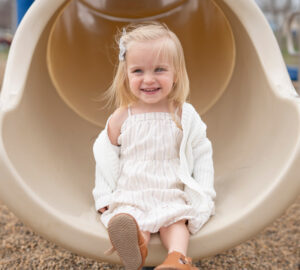 BLAKELYNN
Blakelynn was born unexpectedly early at 25 weeks, weighing just 1 lb, 6 oz. The first 107 days of her life were spent in Monument Health's NICU, where she was placed on a ventilator to help her breathe and had multiple blood transfusions. At 32 weeks old, Blakelynn needed heart surgery, a PDA ligation, which required her to travel out of town. PDA (Patent Ductus Arteriosus) is a common defect in premature babies, in which a hole in the heart allows extra blood to flow to the lungs. Only one week after Blakelynn's surgery and right before Christmas, she was able to come back to Monument Health to continue to heal. Blakelynn's mom, Shelby, credits the support of Monument Health physicians and caregivers for being able to come back to Rapid City so quickly after surgery. Blakelynn has since been hospitalized a few times for respiratory illnesses, and receives monthly injections on the Pediatric unit during cold and flu season to help prevent future respiratory illnesses. She is now two-years-old and loves being outside and playing with her babies!