Little Black Hills Battles
Little Black Hills Battles is a recognition of Monument Health's Pediatric patients who bravely fight childhood illness and disease every day right here in our community. Donations through Monument Health's Children's Miracle Network (CMN) program are devoted to helping these children. All funds stay local.
CARTER
Carter was just 4 years old when he was diagnosed with a disease that is especially rare in children. Chronic Inflammatory Demyelinating Polyneuropathy (CIDP) is a chronic autoimmune disorder that causes Carter's body to attack the myelin sheaths, or fatty coverings that protect his nerves. Since then Carter, now 10, has been receiving his regular infusions at Monument Health. Carter's journey has been a long one, and he has overcome more than most adults could only imagine; yet you'd never know it if you saw him. Carter enjoys spending time outdoors, camping, playing sports and spending time with his brother, Mason, and rabbit, Onyx.
BROX
Brox was diagnosed with Down Syndrome and Complete Antrioventricular (AV) Canal defect at birth. Complete AV Canal defect is a severe congenital heart disease in which there is a large hole in the tissue that separates the left and right sides of the heart. The condition is often associated with Down Syndrome. Brox's care team in Monument Health's NICU and Pediatric Unit worked closely with a pediatric cardiologist from Omaha, Neb., ensuring that Brox was healthy enough to travel to Omaha at 2.5 months for open heart surgery and was instrumental in providing support before he was transferred. Brox is now a strong, healthy kid who loves people and anything related to baseball — especially Post 22 Baseball!
JACK & BARRETT
Jack and Barrett, born at 24 weeks gestation, along with triplet Leighton, came into the world in a fury. All three boys were under two pounds at birth and as planned, were immediately taken to the NICU at Monument Health. Leighton fought hard, but unfortunately passed away peacefully at 3 days old. After many trials and tribulations, including intestinal surgery for Jack and heart surgery for both boys, Jack and Barrett were discharged home with their moms after spending 3 long months in NICU. Throughout the following cold and flu season, both boys required admission to the Pediatric Unit at Monument Health for support with oxygen. Against all odds these two tiny preemies have grown to be healthy, thriving, superhero-loving kids!
LYLA
Lyla has spent a good portion of her life fighting a battle that no kid should have to fight. She was diagnosed with bilateral kidney cancer at 14 months, after tumors were found on both of her kidneys during an emergency department visit following an appointment in urgent care. Lyla spent the next six months receiving aggressive chemotherapy treatments out of town. Following her initial treatments she was able to continue her chemotherapy as an outpatient on the Monument Health Pediatrics Unit, working closely with her Oncology team. Receiving her care close to home allowed her to continue spending time with her grandparents, and gave her family the freedom to live life as normally as possible. Lyla is currently in remission, only visiting the hospital for routine imaging scans or for a short stay due to her compromised immune system. Lyla is thriving and loves trips to Canyon Lake Park to play and look at the ducks!
Read Lyla's Full Story
REMI
Remi was four months old when she was first admitted to the Monument Health Pediatrics Unit for rhinovirus. Her parents suspected that she had something more severe, and after two and a half weeks she was diagnosed with LAMA2 Muscular Dystrophy, a rare congenital early onset form of muscular dystrophy. Symptoms of LAMA2 are apparent at birth or within the first few months of age, and present as severe muscle weakness and lack of muscle tone. Due to her muscular dystrophy Remi has been admitted to the Monument Health Pediatrics Unit numerous times for different respiratory illnesses. She works hard at regular occupational and physical therapy appointments, helping her grow stronger. She is now two-years-old and loves to play with her sister, spend time with her horses and go swimming.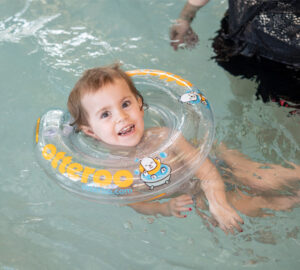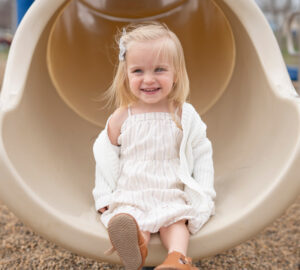 BLAKELYNN
Blakelynn was born unexpectedly early at 25 weeks, weighing just 1 lb, 6 oz. The first 107 days of her life were spent in Monument Health's NICU, where she was placed on a ventilator to help her breathe and had multiple blood transfusions. At 32 weeks old, Blakelynn needed heart surgery, a PDA ligation, which required her to travel out of town. PDA (Patent Ductus Arteriosus) is a common defect in premature babies, in which a hole in the heart allows extra blood to flow to the lungs. Only one week after Blakelynn's surgery and right before Christmas, she was able to come back to Monument Health to continue to heal. Blakelynn's mom, Shelby, credits the support of Monument Health physicians and caregivers for being able to come back to Rapid City so quickly after surgery. Blakelynn has since been hospitalized a few times for respiratory illnesses, and receives monthly injections on the Pediatric unit during cold and flu season to help prevent future respiratory illnesses. She is now two-years-old and loves being outside and playing with her babies!