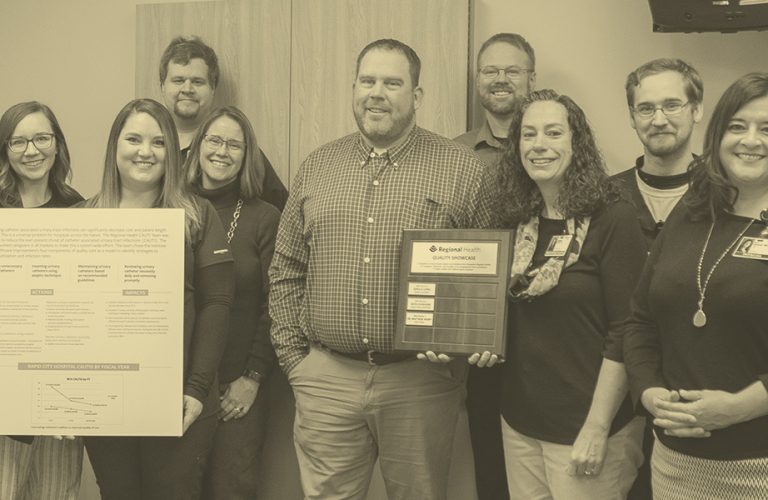 Every day, Monument Health physicians and caregivers strive to provide you the kind of care you deserve. High-quality care is our top priority. We have received awards and recognition for quality and safety. Yet we continue to look for ways to improve the processes, protocols and practices that make our hospitals and clinics the safest and most effective healing environments possible.
Download the Monument Health Safety & Quality Program information sheet.
Monument Health Initiatives
Stroke Process
In fiscal year 2018, Monument Health shortened the average time between arrival at the Emergency Department the administration of Alteplase (clot buster) to 55 minutes.
The recommended time is within one hour.
We developed a "pit stop" process, a multidisciplinary team response to "stroke alert" patients, with assessment and care initiated before the patient is placed in a room.
Result: 55-minute average response time.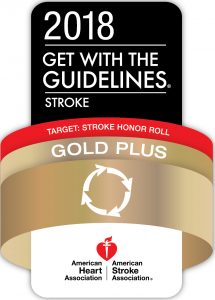 Infections
Monument Health implemented best practices procedures to prevent Central Line Associated Blood Stream Infections (CLABSI) and Clostridium difficile (C. diff).
CLABSI – Best practices insertion procedures and best practices in maintenance in dressing change procedures resulted in fewer central line infections.
C. diff — Antimicrobal Stewardship, environmental cleaning processes and use of ultraviolet lights resulted in a decrease in C. diff infections. (Monument Health scores better than the national benchmark in this category.)
Result: Monument Health has received national recognition from the Agency for Healthcare Research and Quality (AHRQ) for its decreases in CLABSI and Catheter Associated Urinary Tract Infections (CAUTI).
Diabetes
A disease with life-threatening complications, diabetes affects a large number of western South Dakota residents. To help fight diabetes, we have:
Established regional outreach clinics throughout western South Dakota.
Standardized case management for care and testing.
Introduced Diabetes Champions to help patients with assessment, care and education.
Worked closely with inpatients on monitoring and education.
Used community and national resources to help patients get medications.
Result: Levels of HbA1c, a key measure of blood sugar over time, have been improving in the region.
Team-Based Care
In Custer, we launched a process that allows ambulatory physicians to focus on patient care, rather than documentation.
We standardized workflow for patient care.
We ensure that all caregivers can use their expertise to collaboratively provide care.
We provide timely access to outpatient care.
Quality Showcase Winners
Monument Health's Quality Showcase celebrates improvement projects and initiatives led by caregivers and physicians throughout the organization. Projects that contribute to patient safety, quality and evidence-based practice are submitted for recognition on a quarterly basis. Read about our most recent showcase winners' projects: 
Reducing catheter-associated urinary tract infections (Third Quarter, 2018)
A diverse, multidisciplinary team collaborated to reduce the number of catheter-associated urinary tract infections (CAUTI) at Rapid City Hospital by 50 percent over the last two years. The team also reduced infections at all other Monument Health hospitals, as well as drastically reduced the use of catheters overall. Reducing CAUTI can significantly reduce costs and patient length of stay. According to the Centers for Disease Control and Prevention, urinary tract infections are the most common type of health care-associated infection reported, and most of them involve a urinary catheter. Monument Health's team followed the Institute for Healthcare Improvement's (IHI) four components of quality care as a model to identify strategies to reduce both catheter use and infection rates.
Reducing Length of Stay (Second Quarter, 2018)
The Care Management Team and the Patient Flow Oversight Committee have decreased patients' length of stay at Rapid City Hospital. The initiative has also reduced transfers within Rapid City Hospital and has reduced diversions to other hospitals. As patients' length of stay has decreased, hospital readmissions have also gone down. According to the Great Plains Quality Innovation Network, Regional Health has the best readmission relative improvement rate for our region and the surrounding states. The goal was to deliver the right care at the right time and in the right place for every patient.
The committee first identified certain interruptions in a patient's flow of care that can increase length of stay. They then implemented patient-centered interventions that aided in providing more proactive, timely and efficient care while maintaining high-quality standards. The team also created the role of the physician advisor, who serves as a medical consultant to care teams. The initiative's success involved strengthening relationships with long-term care environments to ensure successful transitions, improving discharge education and utilizing electronic medical records for nursing home referrals. The committee relied on Monument Health's Enterprise Intelligence Team for data that helped focus the group's efforts.
Implementing the Stroke Pit Stop process (First Quarter, 2018)
Caregivers and providers at Rapid City Hospital reduced the time it takes for stroke patients to receive medication after arriving with stroke symptoms. The Stroke Pit Stop process has decreased RCH's average door-to-needle time to 50 minutes. That's 10 minutes under the Joint Commission's recommendation. The Stroke Committee will continue to evaluate stroke care at the hospital and already has a goal to further reduce door-to-needle time.