The Black Hills is a picturesque part of the country well known for its national monuments, outdoor activities, family friendly adventures and welcoming communities.
Communities in the Black Hills experience all four seasons – all are breathtaking and filled with fun events and leisurely activities.
Summer is a fantastic opportunity to hike the scenic trails and swim in the beautiful lakes. You can also attend the Sturgis Motorcycle Rally and visit the bison that roam Custer State Park.
Autumn is the time of year when many throughout our region enjoy scenic drives through areas such as Spearfish Canyon and the Badlands Loop. There are lots of fall festivals and events with chili cook-offs, pumpkin-carving contests and productions put on by local theater groups.
Winter and spring in the Black Hills have no shortage of outdoor and indoor activities. These seasons offer a multitude of ways to explore, including exceptional downhill and cross-country skiing, snowmobiling, ice skating and hockey.
Learn more about Rapid City and the Black Hills and Badlands in South Dakota.
Dining & Entertainment
Whether you're looking for an upscale night out or a casual dinner with friends, you can find it throughout the Black Hills. With an outstanding variety of restaurants, supper clubs, cafes, breweries and wineries, there is no shortage of venues to choose from. The music scene satisfies tastes both mainstream and eclectic. The biggest names in country and rock perform at the Sturgis Motorcycle Rally every summer. You can find artist performances ranging from bluegrass and contemporary Native American to Christian pop, symphony orchestras, and more year-round in Custer, Hill City, Lead-Deadwood, Spearfish and Rapid City.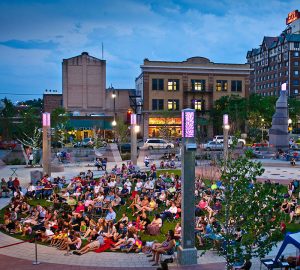 Education
The Black Hills region offers a number of quality K-12 public, private and parochial school options for families. Post-secondary schools include South Dakota State University College of Nursing and the University of South Dakota Department of Nursing, both in Rapid City, the Black Hills State University main campus in Spearfish and branch campus in Rapid City, Western Dakota Technical Institute and South Dakota School of Mines and Technology.
Community & Culture
The sense of community and culture throughout the Black Hills and surrounding communities is unparalleled. The rich Lakota culture, customs and art continue to thrive throughout western South Dakota. In addition, there are numerous community events, activities and celebrations that will be sure to bring smiles to the whole family.
Do you own a short term rental room, apartment, or home that you'd like those moving to the Black Hills to learn about?
Click below to complete our Short Term Rental/Housing form. Once complete, an email will be sent to our HR Connect team, who will ensure your information remains confidential and available for interested parties. When a new caregiver needs a place to live, we will share your information with them and encourage them to connect.
History
The Black Hills are rich with Western and Native American history and tradition. The region is home to over 16 national and state parks, over a million acres of forest, with hundreds of historical sites and monuments a short drive from anywhere in the Black Hills.