Join us for a Career Chat the first Wednesday of every month at 10 a.m. on Facebook Live!
Sept. 2, 2020:
Nursing – Medical-Surgical and Ortho-Neuro-Surgical departments
Current caregivers will discuss nursing opportunities with our Med-Surg and Ortho-Neuro-Surgical departments. We'll also discuss Monument Health's nursing culture, the perks of being a Monument Health nurse, and more! Talk to us live and get answers to your questions in real-time.
Apply Now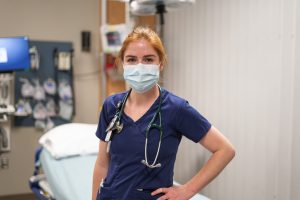 Perks of joining our nursing team:
+ Culture of teamwork, inclusion and self-care
+ Fulfilling work in a setting that fits your needs
+ Tuition assistance
+ Formal programs for appreciating and celebrating our nurses
+ Opportunity to advance care through shared governance councils
+ An outdoor lifestyle unmatched by any other organization in our region
*Job offers are contingent upon the successful completion of a health assessment, background check and drug screen.