The Neonatal Intensive Care Unit is responsible for the care of premature and critically ill infants born at Rapid City Hospital and smaller community hospitals throughout the immediate five-state area. As a Level III healing environment, our NICU is the only one of its kind in western South Dakota, with 28 beds and the ability to treat most neonatal medical problems. Every year we care for approximately 350 newborns.
Our NICU provider team consists of neonatologists and neonatal nurse practitioners. Our nurse practitioners are in-house 24/7 to provide immediate management and emergent care for our smallest and most vulnerable patients.
Specialized capabilities include:
Ventilatory support including advanced ventilator modes
Minimally invasive cerebral function monitoring
Parenteral and enteral nutrition management
Specialized total body cooling
Inhaled nitric oxide therapy
An exclusive human milk diet: Pasteurized donor human milk program, utilization of human milk fortifiers derived from human milk, and NICU-trained lactation consultants
Retinal exams utilizing specialized equipment to screen for retinopathy of prematurity
Prenatal consultation for high-risk obstetrics patients
Attendance at high-risk deliveries
Outreach education to referring hospitals in our four state regions
Comprehensive diagnostic evaluation and intensive care for sick or premature newborns
Low-risk surgical interventions
Neonatal Transport Team. Our Neonatal Transport Team consists of registered nurses, neonatal nurse practitioners and respiratory therapists specially trained in the stabilization, management and transport of ill and premature newborns by ambulance or airplane. The transport team is available 24 hours a day, 7 days a week to transport your baby to the NICU at Rapid City Hospital. In the instance your baby needs care that Rapid City Hospital cannot provide, the transport team will safely transport your baby to a hospital that can provide the required care.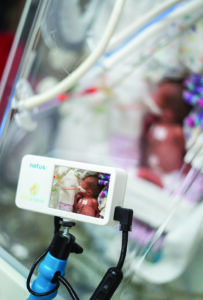 VISITORS TO MONUMENT HEALTH RAPID CITY HOSPITAL WOMEN'S AND CHILDREN'S SERVICES
Will need to use a four-digit passcode to reach the Labor & Delivery, Mother Baby, Neonatal Intensive Care Unit (NICU) or Pediatric departments on the second and third floors near the hospital's West Entrance elevators. The Children's Miracle Network funded the project to keep our most vulnerable populations safe.
Upon check-in, the patient or their guardian will be given the passcode. They can share the passcode with friends and family members for visitation. The visitors will use the passcode to enter the Labor & Delivery, Mother Baby, NICU or Pediatric departments.
NICVIEW™
Through the support of the Monument Health Foundation, we are pleased to provide the NICVIEW™ camera system which allows parents to view their newborns 24/7 while they are receiving care in our NICU. The images are transmitted over a secure system and accessed through an individualized log in.
Claire's Place
The neonatal unit was named Claire's Place after Claire Mahaffey, born in 2008 after just 26 weeks of gestation. Despite starting life weighing only 2 pounds and 4 ounces, Claire emerged from 74 days in the NICU as a thriving baby. Walter and Tina Marie Panzirer, friends of Claire's parents, made a generous donation to the NICU in 2013, and the unit was named for Claire.
NICU Parent Education
Navigating the new language and terms of a newborn during this new stage of life can be a challenge. Click the links below to learn a little more about each term.