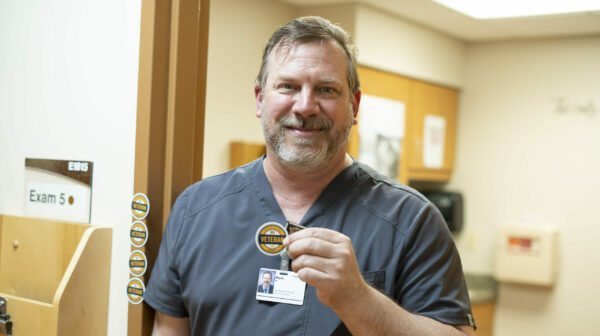 If you were to survey everyone who works at Monument Health, you'd find veterans throughout the health care system, at every level. Veterans and active duty military personnel are in the families and friend-circles of every caregiver and provider — respect for our servicemen and servicewomen is part of the culture at Monument Health.
A significant number of our patients are veterans as well, and the Monument Health Military and Veterans Group is always looking for ways to recognize and honor them.
"When a patient registers as an inpatient with the hospital, one of the questions they are asked is if they're a veteran, and if they would like to be visited by a member of the Military and Veterans Group," explained Mark Harder, Supervisor of Radiation Therapy Rapid City Hospital. "We do get quite a lot of notifications for veterans in different spots to visit."
Mark is the Chair of the Military and Veterans Group. In addition to visiting our veteran patients, the group makes sure that there are American flags for veteran patient doors, and organizes Hero Walks for veteran patients who spend their final days at a Monument Health location.
Their latest accomplishment? The creation of magnets for veteran inpatients, identifying them as veterans and noting what branch of the military they served in. The magnets are displayed on the exterior of the patient's door, in every hospital with inpatients. "We want to recognize the service that these patients have done for their country and community. They put themselves in harm's way for the nation, and we want them to know that we appreciate what they've done," Mark said.
Mark has been instrumental in making sure that the magnets were produced and distributed to all Monument Health hospitals, but he's quick to share the credit. "This wasn't my idea — a number of people wanted to do something like this and after talking about it in one of our meetings I just ran with it," he said. "But this is a team effort from the entire Military and Veterans Group, not just me."
Thank you Mark, and our Military and Veterans Group, for everything you do to honor our veteran patients. To all of our military and veteran patients, caregivers, providers and community members, thank you for your service.