Monument Health Home+ Hospice programs provide compassionate, palliative and supportive care for terminally ill people with an end-stage disease process and limited life expectancy. Hospice offers physical, emotional and spiritual care for both the patient and his or her family.
Purpose
Hospice is a philosophy of care that provides medical and supportive services to those who have a shortened life expectancy. These services are available for people of all ages. Donations to Hospice programs help purchase the needed equipment and patient comfort items in the Northern Hills, Southern Hills and Rapid City.
Annual events held by Monument Health Foundation include: Festival of Trees, Tree of Lights, Northern Hills Hospice Ball.
Lucille's Story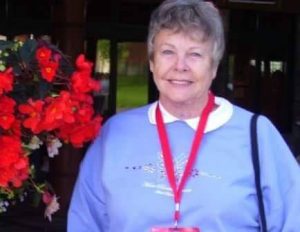 Our mom, Lucille Ann Hilbig Pritchard, was recently in the hands of the wonderful caregivers at Hospice House. Everyone took the time to get to know Mom, and to find what made her comfortable during this hardest time at end of life. The room was filled with love and kindness as they would check on her and the family that stayed with mom through the day and late into the night, while respecting privacy. It was an amazing experience, and our family is so thankful for these "earth angels" that were there when we needed them the most. Mom passed away on February 6, 2019. We had a Celebration of Life on Mom's birthday, March 8, with family and friends gathered together as her Memorial Leaf was placed in her loving memory along the Wall of Trees in the Great Room, next to Memorial Leaves of our dad, Lee Colbert, and Mike's mom, Roberta Modrick.
Thank you to everyone at Hospice House from our family.
Why Does Hospice Care Need Support?
When you donate to Hospice Care at Monument Health, you help ensure every patient is cared for in all ways to appreciate their dignity and provide comfort as they pass.
By supporting Hospice, we are able to continue to provide specialized care right here in our community so families can have their support system of family and friends close by during such a challenging time.
Since every single dollar you donate to Hospice stays local – your efforts support your community. This might be an employee, friend, neighbor or even a loved one whose life is impacted by these funds.
There are many different types of Hospice Care and therefore many different kinds of funds that support a variety of aspects regarding the care for our elderly.
The Monument Health Foundation raises roughly $165,000 annually for Hospice Care.
Donate Now