Maybe it's your mom or your best friend. Maybe it's your next door neighbor. Maybe it's your child's teacher. Maybe, it's you. Cancer affects most of us at some point in our lives. Since opening in 1993, the Monument Health Cancer Care Institute has provided care for thousands of patients providing inpatient and outpatient oncology services, supportive laboratory and imaging services, as well as services for related clinical research trials. They work to continually review and update techniques and technologies to provide leading edge cancer therapies. Your support and participation in foundation events throughout the year help with the cost of these technologies and serve as a thoughtful way to honor those members of our community whose lives have been impacted by cancer.
Annual events held by Monument Health Foundation include: Tough Enough to Wear Pink, Pink Champagne Brunch, Paint the Rock Pink, and Tee It Up Fore Cancer Golf Tournament.
Carla's Story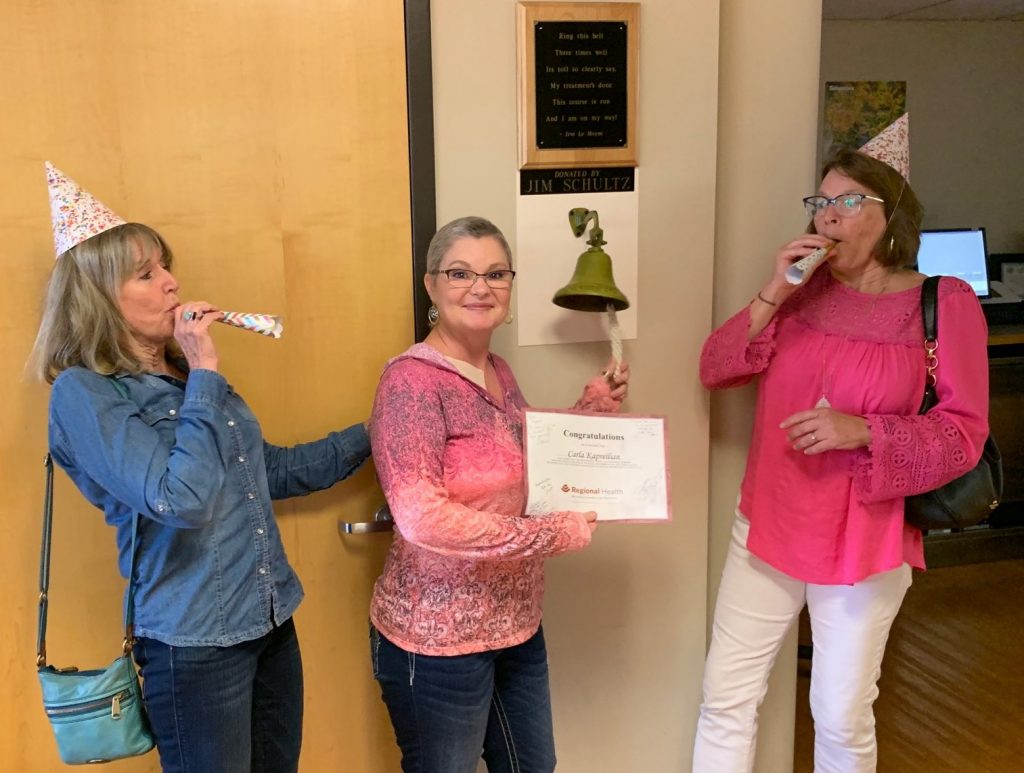 For four years, Carla Kapreilian volunteered at the Paint the Rock Pink all-ladies golf tournament to support women in their fight against breast cancer. But in January 2019, the cause became personal. She herself was diagnosed with breast cancer. She was told, "We found something, and it's something serious … we need to do a biopsy right now."
Carla flew to a cancer treatment center in Georgia since she has family there. She thought that she would also have her therapy done there as well. However, she says, choosing to have her treatment done in Rapid City was the best decision she ever made. "I felt like a person being treated as opposed to a number being treated. The staff took a personal interest in me, my friends and family. I felt they truly cared about my well-being." she says.
At her initial appointment following diagnosis and before chemotherapy, she was handed a list of items to help with the side effects of treatment. "Here's the list – it's overwhelming, expensive, uncomfortable, and scary." Carla wondered how people less fortunate than her could afford to buy all of the products. "They sometimes just don't or can't," Cancer Care Institute Director Kristi Gylten, told her.
Kristi's words weighed heavy on Carla's heart, so she decided to put a few kits together and donate them. The kits went quickly, and that's when Carla realized how she could help. She wanted to make something fun and uplifting during her journey, so to raise funds for her care kit project, she started a "hair pool." It's much like a football pool. She sold squares for $20 each to family and friends from numerous states. Each square represented a prediction about how her hair would grow back – color, length, style, etc. – after chemotherapy. All of the money that she raises goes toward treatment care kits. On November 5th, Carla presented Monument Health Foundation a check for $8,000 and will begin preparing kits for distribution.
Since Carla started her project, the Cancer Care Institute has started working on a project of its own. Once at the details are finalized, Cancer Care Institute plans to provide a care kit to every new patient receiving radiation or chemotherapy, about 1,500 kits annually. Kristi and Carla have been working together on making sure the proper items go into each care kit.
Donate Now