Patient Care Champion appreciated by fellow caregivers
Patient Care Champion appreciated by fellow caregivers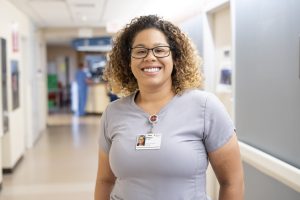 When fellow caregivers – six in one month, to be exact – submit formal notes of appreciation for the work you're doing, it's safe to say you're doing something right. Whitney Pittmon, Patient Care Champion (PCC) at Rapid City Hospital (RCH) and nursing student at South Dakota State University, received WOW cards from six caregivers in May alone.
"I always try to go above and beyond at my job, so it's very special to be appreciated by my coworkers," said Whitney, a Rapid City native who joined the Cardiac Intervention Unit in November. One theme from her WOW cards is Whitney's reliability and her ability to provide high-quality, compassionate care to patients even when difficult situations arise.
In his WOW card, Clinical Resource Nurse Tim Donner, RN, told Whitney that she "showed real calm and patience under very stressful situations." He added that "It is always comforting to know you are on a pod, because your patients will all be well taken care of." Brandy Myers, RN, said Whitney is always positive and cheerful, and her rapport with patients is fantastic. Ashleigh Kostboth, RN, said "I know I can always count on Whitney when I need help."
Clinical Nurse Manager Amanda Dosch, BS, RN, said she appreciates Whitney's tenacity and process improvement ideas. "She brought forward suggestions that we have or will implement such as a change to our pod checklist and standardizing our PCC report."
The recognition from nurses on her floor is especially meaningful since Whitney hopes to join them one day as a registered nurse. "The team-building that's exhibited on the CIU is super encouraging to me as a new nurse," she said. "I feel like I have a place on this floor and like I have an extra family."
Whitney said her fellow caregivers have reinforced the importance of patient-centered care, something she is learning about in nursing school. "[Patient-centered care] really does work. The patient needs to feel like they are the priority, and sometimes you can do that just by talking to them. Even though we have so many things to do, taking a few minutes out of the day to talk with a patient might be just what they need."
Whitney has submitted her own share of WOW cards, because she feels it's important to let people know how much she values their help. While she feels that formal recognition is important, she hopes fellow caregivers know they are always valued – WOW card or not. "Some people might think they aren't appreciated unless they get a WOW card, but that's not true. You are."
Taking time to acknowledge someone's hard work might be the boost they need that week. Thank you to Whitney and all PCCs and PCTs for making a difference for nurses, patients and families at Monument Health.