Physical Therapist helps patient recover after serious accident
When Susan Szutz woke up in Spearfish Hospital after a serious motorcycle accident almost two years ago, she thought she'd never walk again. In fact, when she was lying at the bottom of Spearfish Canyon right after the accident happened, she thought she might die. At the very least, she thought she might lose one of her legs.
So, it was a surprise to her when Physical Therapist Kim Cockrum, the day after her surgery, told her she was going to get up and walk. "When Kim walked in and said, 'You're going to walk today,' I was amazed," Susan said. And the rest is history. Kim not only helped Susan walk again, but she's helped her manage the pain that comes with severe nerve damage and broken bones not yet healed.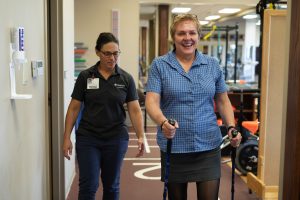 One of the tools Kim used to help Susan build muscle strength and experience less pain was dry needling. It's a technique that's been used by physical therapists for years but is new to South Dakota. The procedure involves inserting thin needles directly into the muscle, which stimulates the tissue and can help with any number of issues including numbness, acute or chronic pain, strength and range of motion. Kim recommended the technique to Susan to help with some strength deficits, but the treatment ended up helping with her pain, too.
"I had accepted that that's the way it was going to be," Susan said of pain she experienced when someone would touch her leg. "I was constantly protecting that part of my leg." After her first dry needling treatment, she felt appropriate feeling in her leg instead of numbness, had less pain and found it easier to walk. "That was the first night that I got into bed and didn't arrange everything just perfectly."  She's received the treatment about five times in total, and the reinforcements have helped so much that she hardly experiences any pain.
Kim said she always tries to get to know each patient so she can best meet their needs. "I try to make what I'm doing meaningful to the patient so they can incorporate these practices into their life and move more easily with less pain so they can have a better quality of life."
Susan's personal motivation and help from her physical therapist have allowed her to continue to live an active lifestyle, despite her injuries. She enjoys biking, hiking, golfing and chasing her grandchildren around. She said that while she's had an extremely positive experience with all of her providers, she and Kim have developed a special bond.
"I just think Kim's wonderful," Susan said. "She was one of the first people I saw after I woke up from surgery. When you've been through a near-death experience, the people who take care of you become very special to you."