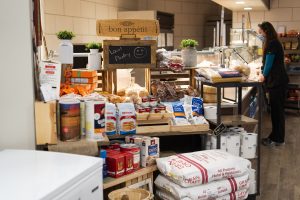 Caregivers and physicians at Monument Health's Rapid City Hospital now have a convenient way to stock up on the essentials. Café Nourish has started selling grocery products such as milk, bread, cheese, butter, flour, meat and even single rolls of toilet paper in response to the COVID-19 pandemic.
The idea for the selection of grocery products came via a collaboration between Kurt Seeger, Associate Director of Food and Nutrition at Rapid City Hospital, and Café Nourish Chef Scott Brinker.
"This really got its start because it is the right thing to do." Seeger said. "Going to the grocery store after work increases the risk of exposure for our caregivers, plus this is just much more convenient for them."
A continued partnership with Evergreen Ranching and Livestock in Custer has allowed Café Nourish to offer fresh local meat for caregivers. Seeger said ground beef, chuck roast, tri-tip roast and even sirloin steaks are available for purchase.
"Our caregivers have really loved this; we are hearing from them that some of the meat aisles in the grocery stores have been sold out," Seeger said.
Because Café Nourish has bulk buying power, some of the items they are selling come in larger quantities. But Kurt said caregivers are still buying them. "Two people have already bought 50-pound bags of flour," he said.
The grocery items will continue to be sold at the café throughout the pandemic, according to Seeger, and he hopes to expand the offerings in the near future. "We want to start something where caregivers can request items they may need," Seeger said. "We are already trying to figure out how to safely sell fresh produce."
Because of visitor restrictions at the hospital, the café is not open to the public.