Welcome to the Monument Health digital Honor Wall.
Here, we celebrate the stories of loved ones who gave the ultimate gift of organ, eye and tissue donation and recognize the lives saved by these gifts of life. Giving the gift of life is one of the most selfless legacies a person can leave behind.
Monument Health recognizes these individuals in many ways including a digital library celebrating those who became organ, eye or tissue donors. Read their stories below.
Monument Health also recognizes these individuals with a flag raising, annual awareness event, a tree of life and Honor Walk. Learn more, below.
Donate Life Tree
Planted along the Fairmont Entrance to Monument Health Rapid City Hospital, this Tree of Life reminds us of those who have donated in the past. Each spring caregivers plant Forget-Me-Not flowers around the base of the tree.
Honor Walk
The Honor Walk takes place when a donor patient, who is on life support, is transferred from the Intensive Care Unit to the Operating Room. Caregivers and physicians pay their respects to the donor and lend support to the family on their journey. Honor Walks allow families of intended organ donors, as well as the medical care teams, the opportunity to honor the generosity of the donor for sharing the gift of life.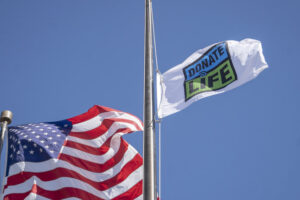 Donate Life Flag
Every April, Monument Health recognizes Donate Life Month by flying the Donate Life flag at each of our hospitals. The Donate Life flag has become a national symbol of unity, remembrance and hope. The concept of a flag raising is to make a unified statement about the importance of donation, represent the great need for donors and encourage people to register as a donor. Oftentimes, the Donate Life flag is placed across the donor with family gathered at bedside to say a few words.
Annual Donate Life Event
Each year, Monument Health sponsors an annual remembrance 5K run/walk to bring awareness to organ, eye and tissue donation. Proceeds from that walk helped create this memorial and adjacent slide show.
Honorees
Tristan Lane Davison
May 3, 2005 – Oct. 5, 2022 
Tristin was a kind soul and had a heart of gold. He had a soft spot for his siblings and animals. He could usually be found watching a movie with his sister, Olivia and his dog Dozer. He enjoyed racing BMX and was very good at it. He could always count on his moms to be in the stands cheering him on. He considered himself to be blessed to have 3 mom's.
Spencer Briscoe
May 5, 1993 – Nov. 12, 2017
Spencer was born on Cinco de Mayo in Okinawa, Japan. He was special from the start! Spencer had the biggest heart and would do anything for anyone. Spencer also had the best smile and a mischievous twinkle in his eye. Spencer is loved and missed by many.
Merle D. Haugen, II "Doc"
May 30, 1987 – June 26, 2019
Doc was a fun, goofy, loving, laid back man. His physical heart may have failed, but his heart for others was bigger than life. His legacy lives on in his family and his selfless gift of donation. He was able to donate both kidneys, corneas and tissue, changing and saving lives even in death.
Nehemiah Larimer
Sept. 27, 1996 – March 28, 2015 
In his last days of his 18 years, Nehemiah modeled the profound. He led. He checked the box. He led a life of gratitude and choice. He adventured and climbed mountains. He taught and inspired those who joined him outdoors.