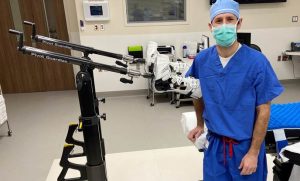 RAPID CITY, S.D. (Jan. 27, 2020) – Orthopedic Surgeon Joseph Humpherys, D.O., recently performed a postless hip arthroscopic hip procedure, making Monument Health Orthopedic & Specialty Hospital the first facility in South Dakota to incorporate the Stryker Pivot Guardian Distraction System.
Arthroscopic hip surgery can treat a wide range of causes that produce hip pain such as labral tears, hip dysplasia, bony impingement and cartilage injury.
The Stryker system is a high-tech operating table that allows a surgeon to gently open up the hip joint while the arthroscopic surgical tools perform the needed repairs. It also allows the surgeon to carefully turn and reposition the joint for better access to all areas of the hip. This allows more minimally invasive hip procedures to be performed with an arthroscope, instead of a large open surgical incision, and improves patient outcomes.
During traditional arthroscopic hip surgery, the operating table is equipped with a large post positioned between the patient's legs. Its job is to keep the patient's torso in place while traction is used to pull open the hip joint, separating the ball from the socket. This is a process called distraction.
"That can come at a cost for the patient, because the post can damage soft tissues in the groin, often causing nerve injury. It's the number one complication of traditional arthroscopic hip surgery," Dr. Humpherys said. "Sometimes it requires a great deal of traction. To get an idea of the process, picture yourself straddling a wooden fence, with heavy weights tied to your legs."
Instead of a post, the Stryker system uses the patient's own body weight and a strap across the chest to hold the patient in place. Meanwhile, the patient's feet are placed in special boots that allow the surgeon to apply traction, turn the joint and make other adjustments during surgery.
"This allows a greater range of motion during surgery, less traction time and completely eliminates the side effects from traction with a post," Dr. Humpherys said.  "All these benefits result in a safer procedure, better surgical results and patient outcomes with less pain. It's revolutionized how we do hip surgery."
If you have hip pain, schedule a consultation today with Dr. Humpherys at Monument Health Orthopedic & Specialty Hospital to see if you are a candidate for arthroscopic hip surgery with the Stryker Pivot Guardian Distraction System.
About Monument Health
Headquartered in Rapid City, S.D., Monument Health (formerly Regional Health) is a community-based health care system with a mission to make a difference, every day.   The system offers care in 33 medical specialties and serves 20 communities across western South Dakota and in eastern Wyoming. With over 4,500 physicians and caregivers, Monument Health is comprised of 5 hospitals, 8 specialty and surgical centers and more than 40 medical clinics and health care service centers. Monument Health is a member of the Mayo Clinic Care Network.
###
CONTACT:
Dan Daly
Communications Specialist
Strategic Marketing and Communications
Monument Health
605-755-9178
ddaly@monument.health