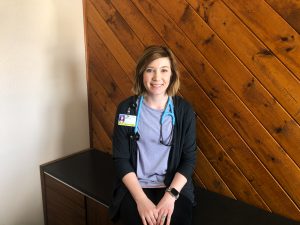 Jess Whitney, Family Nurse Practitioner in Newcastle and Upton, Wyo., knows firsthand how important it is to have access to great primary care close to home, especially in a rural area. She's also experienced the benefits of an entire family having the same point of contact for medical care. When Jess was pregnant with her second child (Kaylie) in 2017, she saw Family Medicine Physician Joy Falkenburg, M.D. in Custer. During that same time, Dr. Falkenburg also cared for Jess's mother, Dawn, who had cancer.
Just eight days after giving birth to Kaylie Dawn, Jess's mother passed away. A photo of her mother holding Kaylie is on her desk at the clinic – a reminder of why she decided to become a nurse practitioner and serve a rural community. "The small community really came together and helped us get through that time," she said.
Jess grew up in Hill City and completed her bachelor's degree in nursing from South Dakota State University in Rapid City. She worked in the float pool at Rapid City Hospital for three years before moving back to the Southern Hills to work at Custer Hospital and Clinic. It was during this time that she met Dr. Falkenburg and made the decision to pursue an advanced degree. "The fact that you could care for someone from the time they were born to when they decide to have a baby, all the way up until the end of life – that really hit home with me."
Dr. Falkenburg said it's been joyful to be a part of Jess's journey – to be able to join her mother in her dying process and then also become a part of her children's birth and growth process. "It's the beauty of family medicine," Dr. Falkenburg said. "I grow, learn and transform with them." While Jess went through a lot of pain with her mother's death, Dr. Falkenburg saw how that allowed her to see her patients more fully and understand any suffering they may be carrying.
Jess graduated in November and has been working in Newcastle ever since. She'll also be in Upton starting this week. Her husband, Casey, is an electrical supervisor at North Antelope Rochelle Mine. As one of two female health care providers in the area, Jess has developed a passion for women's health. She hopes women know they can get their care locally.
While she enjoys providing care in a small community, she also likes being part of a larger health system. "You can always go a step up in terms of a second opinion, and it's easy to make referrals," she said. "Having the Mayo Clinic Care Network resources is also a really big deal. I've had a few people ask if I would go out on my own, and the answer is no!"
Jess wanted to be a nurse as long as she can remember. "It's just something I always wanted to do, but now looking back I think it was a calling for everything I was going to go through in life." She hopes to make a difference every day in her patients' lives. "Hopefully they'll have a good experience and want to keep coming back for their whole life."