One of the hardest days of Dr. Kent Wright's life was watching the cattle as they were driven away from his family's third-generation dairy farm in Sebeka, MN. He'd spent 18 years owning and operating the farm and its pure-bred herd of registered Holsteins. But he, along with many other family dairy farmers, made the difficult decision to liquidate after the milk market tanked in 2009.
"The decision to close a third-generation family farm was very difficult," Dr. Wright said. "It was very hard to walk away from."
Unlike most dairy farmers, his office contained a microscope and cryogenic freezer. He focused on maximizing his herd's genetic potential through embryo transplantation, where he was the primary facilitator of bovine superovulation, embryo collection and implantation of embryos into the surrogate females. He incorporated high-level science into his genetic practices, which made him competitive in the national and world dairy show rings.
It was his interest in science that led him to a different path once the operation shut down: medicine. Ten-plus years of schooling and training was an interesting choice for someone who, as a teenager, never wanted to spend one more minute in school than necessary. But 11 years later, Dr. Wright has joined the family medicine staff at Sturgis Clinic.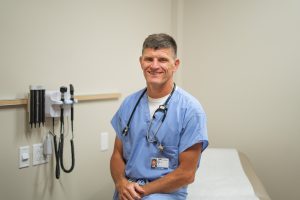 Dr. Wright at Sturgis Clinic
"It's pretty ironic, because I hated school with a passion, and I never wanted a job where I had to dress up," he said, adding that his wife was a huge proponent of him going back to school. "I joke that when my wife met me, she found me back in the brush and cleaned me up and made me go to school."
He completed the first two years of medical school in Dominica at Ross University School of Medicine and finished his clinical years in Saginaw, MI. While medical school and his family medicine residency at the University of Arkansas were challenging, Dr. Wright noticed he may have had a slight advantage since he was used to the long hours and hard work of farm life.
"I come from a very rural place, so a lot of times when you have a problem, you need to figure your way through it," he said. "If I was delivering a calf that was breech in the middle of a blizzard, I wasn't going to get help from a veterinarian. I had to figure it out."
It was during his residency when he realized he wanted to work with a rural population, or rather, people who reminded him of his friends and family. Dr. Wright grew up just outside of Sebeka, a town of 700. Rural activities like hunting, fishing and farming are close to his heart. He noticed that patients valued a doctor who understood their work and their background.
"There was a fair amount of agriculture there, and I found that was really a patient population that I connect very well with, because I understand what they do," he said. "That's my crowd."
His goal to serve rural patients is what brought him to Sturgis. The Black Hills made the short list of places he and his wife wanted to end up after his schooling. His family is especially excited for snow and skiing, as they've been away from that in Arkansas.
"When I had the opportunity to come here, I jumped at it," he said. "So far we're loving it." Dr. Wright has three stepsons who are working in North Dakota and Montana, a teenage son with him in Sturgis, and a daughter who stayed in Arkansas for schooling.
He has enjoyed using skills he learned as an adjunct professor during medical school to educate patients on their conditions and certain medications.
While he doesn't miss fighting with the budget, Dr. Wright does miss the cattle. "I might eventually try to find some acreage to have a few cattle, but we'll see – my wife's not completely sold on that yet."
Guess we'll have to wait and see. Welcome, Dr. Wright and family!