Hockey is a physically demanding sport — players can cover almost five miles in the course of a game, with several high-intensity sprints mixed into that movement. Players in a forward position, like Brayden Fine, often cover even more distance at higher intensities. To excel as a hockey player requires plenty of practice, as well as excellent physical training.
Brayden had the practice part covered, playing on the varsity Rushmore Thunder team. To get an edge and take his game to the next level, he started working with Chris Hathaway, a Performance Enhancement Coach at Monument Health Sports Performance Institute, Powered by EXOS.
"My team did a training with them and I really liked it," said Brayden. "I felt like I got a lot out of it and I thought it'd be a really good thing to do more of." He committed to training with Chris five days a week, working on speed, agility and strength. "For Brayden specifically, as a hockey player, our goals have been increasing his speed, making him strong and explosive and adding some size to the height he already had going for him. Basically, I wanted to help him become a force to be reckoned with on the ice," Chris said of their training goals.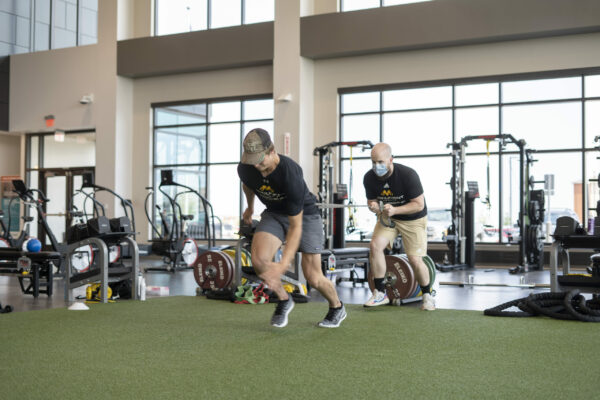 Their hard work paid off, as Brayden recently signed with the Jersey Hitmen, an organization within the United States Premier Hockey League. Brayden says, "It's like an adventure — I'm excited to see another place, to play a bunch of different teams and meet new people. I can't wait to see how far this team will take me."
When it comes to training at Sports Performance Institute, Brayden believes it was a great decision. "I would definitely recommend it," he says. "I think all the coaches are awesome, and I've never regretted spending my time there. Chris was great at answering any questions that I had and was willing to work with me through any problems."
Chris speaks highly of Brayden's commitment to his training as well, saying, "what sets Brayden apart from his peers is that he has shown a dedication and determination to his sport and his training that very few athletes have at that age. Brayden is one of those athletes that makes my job fun. He trusted me as his strength coach and completely committed to the process. He has worked so incredibly hard during our time together and it's great to see it paying off for him with this opportunity to play for the Jersey Hitmen."