When it hurts to walk, bend over, climb stairs, type, write, raise your arm or bend your knee, it's time to see an orthopedic specialist. If you've suffered from a torn ACL, torn rotator cuff, hip injury, arthritis, carpal tunnel, tendonitis, sprained ankle, bone fracture or torn ligaments, you want to know you're receiving great care.
Let us help you regain the quality of life that you've lost because of injury, arthritis or joint wear-and-tear. Our comprehensive musculoskeletal services will move you from diagnosis to treatment, recovery and beyond.
At Monument Health, you'll receive top quality care by a board-certified orthopedic surgeon and a comprehensive team of trained orthopedic specialists. With our years of experience, we are proud to offer a fast track of comprehensive care with services such as same-day total joint replacement focused on getting you back home again.
Our Services
Arthroscopic shoulder, knee and ankle surgery
Carpal tunnel release
Fracture care
Hand surgery
Hip replacement
Joint injections
Knee replacements
Minimally-invasive orthopedic procedures
Orthopedic surgery
Regenerative medicine
Sports medicine

What is the ROSA Robotic Knee System?
The ROSA Knee system is a robotic assistant that allows the surgeons to personalize a knee replacement to the unique anatomy of each patient.  One of the most important factors in a successful knee replacement is appropriate placement of the implant and alignment of the knee.  In selected patients, the ROSA helps us more efficiently achieve this goal, giving the best possibility for the knee to last longer and function properly.  Monument Health will provide this technology to those patients that will benefit from it without additional cost.
If you'd like to know more, talk to your Monument Health orthopedic surgeon to see if you would be a good candidate for robotic surgery.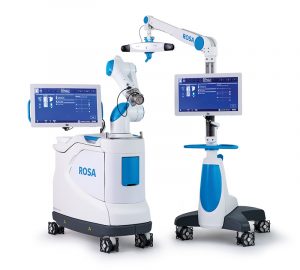 Tune into our Podcast on your favorite streaming device, or visit our website to start listening.
I don't know what is better about this doctor: his professional skill and knowledge, or his pleasant personality. Dr. Gould clearly cares about his patients and their welfare. Great crew in his clinic, too.
Met with Dr. Lochmann to discuss knee replacement and my options. He was very thorough in his examination and very understanding of my situation. I would highly recommend Dr. Lochmann and plan to come back to him when the time comes to replace my knee.
Dr. Little is very knowledgeable and kind. He takes the extra time to do a thorough exam and talk to his patients.