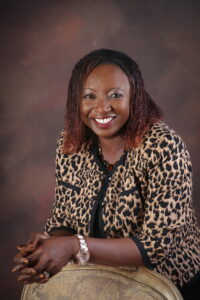 RAPID CITY, S.D. (June 16, 2022) – Monument Health announced that Sandra Ogunremi has been promoted to Vice President of Diversity, Inclusion and Belonging. She has been with Monument Health since 2008, most recently as Director of Diversity, Inclusion and Spiritual Care Services.
Over the past five years, Ogunremi has led organizational initiatives, workshops and internal/external training on diversity. An ordained minister, she has lived on three continents and traveled across four continents extensively. She has experienced the diverse cultures of the world and has served as a cultural coach and leader. She has been a community leader forming teams to address community health topics.
"I am delighted to announce that Sandra Ogunremi has accepted this new executive role for our organization," said Monument Health President and Chief Executive Officer. "She has made it a priority to increase cultural knowledge and awareness, and to tear down the barriers that keep us from learning about each other."
As Vice President, Ogunremi will elevate her work to ensure that Monument Health celebrates diversity, inclusion and belonging within the workplace and throughout the communities served by the health care system.
Ogunremi earned a Doctorate in Health Administration from Central Michigan University in 2009. She has a Master's of Science degree in Administration and a Bachelor's degree in Pharmacy. She is Certified in Cultural Intelligence, Certified in Diversity Management with the American Hospital Association's Institute for Diversity and Health Equity. She is a Cornell-Certified Diversity Practitioner, a Stanford-Certified Project Manager and holds several other certifications. She is a published author of the book, "Casting Down Disruptive Imaginations."
MEDIA CONTACT:
Dan Daly
Monument Health
605-755-9178
ddaly@monument.health