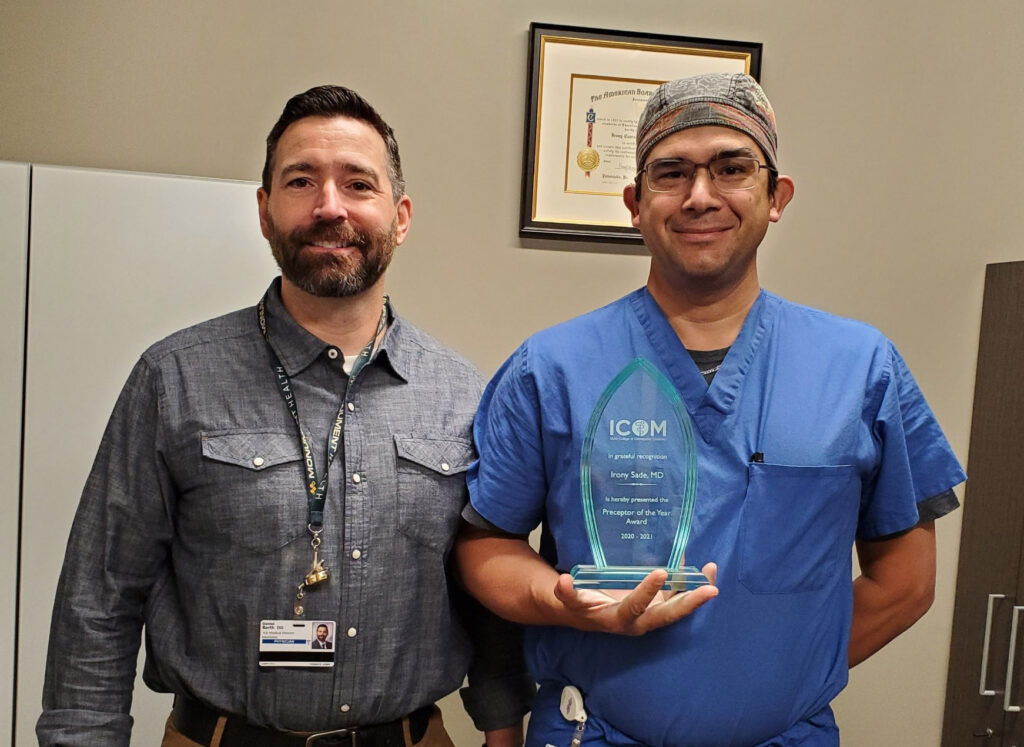 Irony Sade, M.D., received a Preceptor of the Year award from the Idaho College of Osteopathic Medicine's Clinical Affairs Department. ICOM is recognizing 10 physicians from hospitals and health care systems with the inaugural Preceptor of the Year awards.
The preceptorship has ICOM students rotate with a surgeon for a four-week block. The students follow the preceptor in the clinic, during endoscopy, in the operating room and rounding with hospitalized patients. They also take trauma calls with preceptors and are invited to observe or participate in any cases that take place during their rotation. They may also be involved in formal and informal presentations and a substantial amount of one-on-one bedside teaching.
ICOM's third-year students on clinical rotations nominate and select one award recipient at each of the school's core sites. Dr. Sade was unanimously voted Rapid City Hospital's Preceptor of the Year by his students. They admired his ability to interact with caregivers and fellow physicians, but most especially his interactions with patients. Everyone agreed that he went above and beyond when communicating with patients, and even those who don't plan on going into surgical medicine loved learning from him.
Dr. Sade said, "I try to only have one student at a time, so they can receive individualized attention. The ICOM students are an exciting group to work with. They tend to be well prepared, professional and actively engaged in learning. They are often ahead of their peers in terms of technical skills and always ready to jump into unexpected cases to further their surgical education. It is a pleasure to be able to contribute to training the next generation of surgeons."