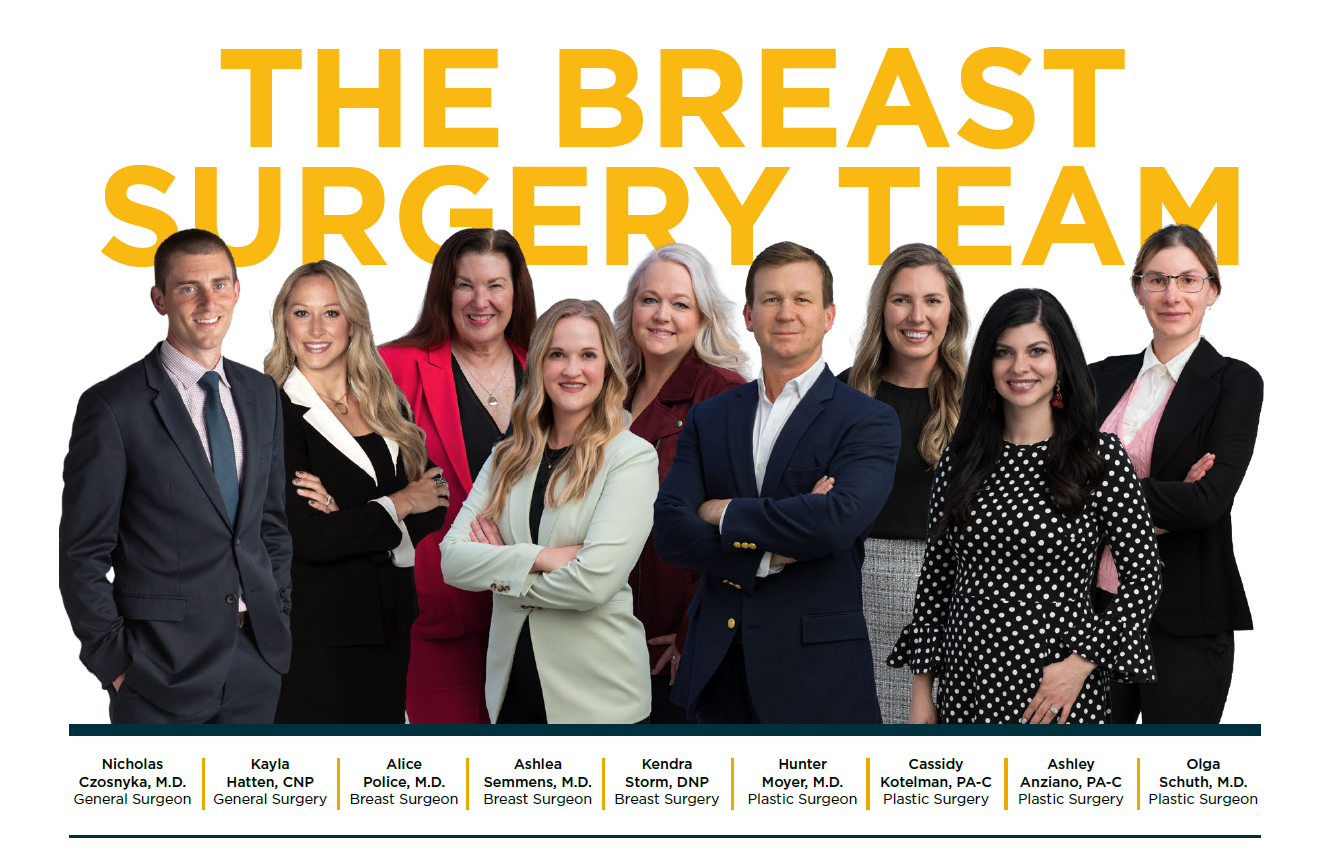 Breast cancer is the most commonly diagnosed cancer in American women, and there are more than 4 million women with a history of breast cancer in the U.S. In South Dakota, an estimated 645 women are diagnosed with breast cancer every year.
This summer, to help meet the growing need, Monument Health welcomed Breast Surgical Oncologist Ashlea Semmens, M.D., as the new Medical Director of the Breast Surgery Program, as well as Plastic Surgeon Olga Schuth, M.D. Dr. Semmens and Dr. Schuth join Breast Surgeon Alice Police, M.D., Kendra Storm, DNP, an advanced practice provider specializing in breast cancer and breast health, Plastic Surgeon Hunter Moyer, M.D., Plastic Surgery Advanced Practice Providers Ashley Anziano, PA-C and Cassidy Kotelman, PA-C and Spearfish-based General Surgeon Nicholas Czosnyka, M.D. and Kayla Hatten, CNP, who both have a special interest in breast surgery.
Dr. Semmens came to Monument Health after completing General Surgery Residency in order to provide high-level and cutting-edge breast cancer care, and more recently completing a one-year Breast Surgical Oncology Fellowship.
"I approach my work with the philosophy of treating each patient individually," Dr. Semmens said. "Breast cancer care continues to evolve and improve as new studies are published and guidelines are updated. While keeping that in mind, I use a shared decision making approach to care working with my patients, giving them space to advocate for their health. Together with their needs and the latest studies, we work together to find the safest and strongest care plan, unique to each patient."
Dr. Schuth recently completed an integrated plastic and reconstructive surgery residency, during which she worked with a number of breast cancer patients and survivors. "It's important that we treat the whole patient, not just the cancer," she said. "Some patients may need or prefer surgical intervention, while others may have the opportunity for less invasive treatments. Some may opt for reconstructive surgery after treatment is complete. For many women, this helps them regain a sense of normalcy."