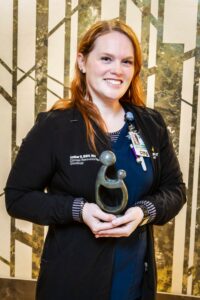 Photo Link: Amber Steiner, RN
RAPID CITY, S.D. (Feb. 18, 2022) – Amber Steiner, a Registered Nurse at Rapid City Hospital Oncology, has received the prestigious DAISY Award. A national program, the award is presented to nurses who go above and beyond for their patients and community. She was nominated by a traveling nurse. 
Amber went above and beyond to help this traveling nurse feel welcome and set an excellent example for all of her fellow caregivers to follow. 
The traveling nurse wrote, "Amber is constantly helping other caregivers throughout the shift while maintaining her duties. Whether it's passing medications, cleaning patients or completing other daily tasks, it's evident that she not only wants to help the staff, but puts our patients and their needs first. She's extremely knowledgeable yet strives to learn from everyone, regardless of his or her credentials."
The nomination continues, "The thing that I respect the most about Amber, is the heart she relentlessly pours into her patient care. Working with our patients can be emotionally heavy. I've seen Amber make a patient laugh on one of their worst days. I've watched her hold the hand of a family member that wasn't quite ready to say goodbye to their loved one. I've even seen her shed a tear for someone she's known for just a day. Amber treats our patients like people, not a diagnosis. She's a hidden gem working within Monument Health that fully encompasses the qualities that all staff members should exude."
The DAISY Award recognizes the outstanding professionalism and compassion that nurses bring to patients and families every day. It was established by the DAISY Foundation in California in memory of J. Patrick Barnes, who died at age 33 of an autoimmune disease. DAISY is an acronym for "diseases attacking the immune system." Nurses in Rapid City are selected 12 times a year for this recognition. Nurses are also honored in Custer, Lead-Deadwood, Spearfish and Sturgis. Visit monument.health/daisy to nominate.
###
CONTACT:
Wade Ellett
Communications Specialist
Strategic Marketing and Communications
Monument Health
wellett@monument.health