Nourish is an oasis where caregivers, physicians, patients and family members can relax and have a nutritious meal. Our chef and food service caregivers work hard to create a positive experience for all who pass through the restaurant.
You won't find a bland hospital cafeteria here. Instead, you'll find a calming atmosphere with the option to eat outdoors. You will also find plenty of healthy, nutritious, wholesome foods – much of it locally sourced. Our partnerships with local growers and ranchers help us further our goal of sustainable, healthy dining.
Benefits of farm-to-table eating:
Local food is often more nutritious because it's not shipped long distances.
Food that is shipped may be picked before it is ripe to lengthen the lifespan, resulting in reduced nutrients.
Local food is better for the environment. For example, an average 18-wheeled semi-truck travels about 5 miles/gallon of diesel fuel. You would need 500 gallons to haul produce an average distance of 1,500 miles
Purchasing local supports local growers/farmers.
Farm to table is wellness in the form of nutrition and supports healthy choices in our cafe.
This Week's Menu
Download this week's menu.
To learn more about what we offer and to stay up to date on specials and events, join our Facebook Group.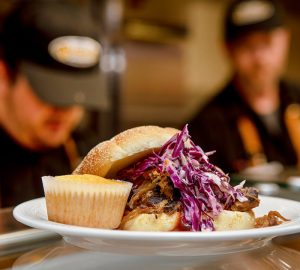 Meet the Chef
Scott Brinker, known around Nourish as "Chef Scott," is a firm believer in Hippocrates' famous quote: "Let food be thy medicine and medicine be thy food."
Chef Scott knows the farmers and ranchers who grow most of the food served at Nourish. He's personally visited their fields. And because these foods are grown locally, he knows they are fresher and more nutritious.
Nourish's farm-to-table approach fits well with Monument Health's priorities. "The place in the community that should be the bastion of good health is the hospital," he says. And nothing promotes good health like good food.
Food is comforting to patients and families, which helps provide a caring experience.
"People center their day around food," says Chef Scott. "If you have an open, pleasant place to come get a meal or a snack, it really makes a difference."