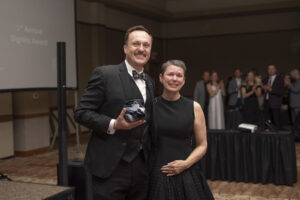 PHOTO LINK: Monument Health Foundation Director Hans Nelson presents the Dignity Award to longtime Hospice of the Northern Hills Director Mavis Jewitt. 
SPEARFISH, S.D. (April 14, 2022)  – Mavis Jewitt, the Registered Nurse who has been involved in Hospice of the Northern Hills since it began 25 years ago, was named the first-ever recipient of the Monument Health Foundation's Dignity Award.
She was presented the surprise honor during the 25th annual Northern Hills Hospice Ball in Spearfish. The event raised more than $62,000 for Hospice of the Northern Hills, well above the $55,000 fundraising goal.
The Dignity Award was created to honor those who have dedicated their lives to hospice programs through the Northern Hills as well as the greater Black Hills Region, according to Hans Nelson, Director of the Monument Health Foundation.
Mavis Jewitt served as director of Hospice of the Northern Hills for its first 18 years. She remains an active supporter of the program, its mission to provide family support, special equipment, programs and comfort items for 200 patients a year who are nearing the end of their life.
"Caring and compassion runs deep in her veins. When a patient, family member or coworker had a question, Mavis would always take the time to think, process and help them figure out what was needed," Nelson added. "It didn't matter if the patient was a 2-day-old baby or 102-year-old patient. The care was there. The love was there. And the compassion was there."
A nurse for 48 years, she has worked for the Peace Corps in Yemen and as a medical missionary in Haiti. She's also an adoptive mother of five children.
###
MEDIA CONTACT:
Dan Daly
Monument Health
605-755-9178
ddaly@monument.health